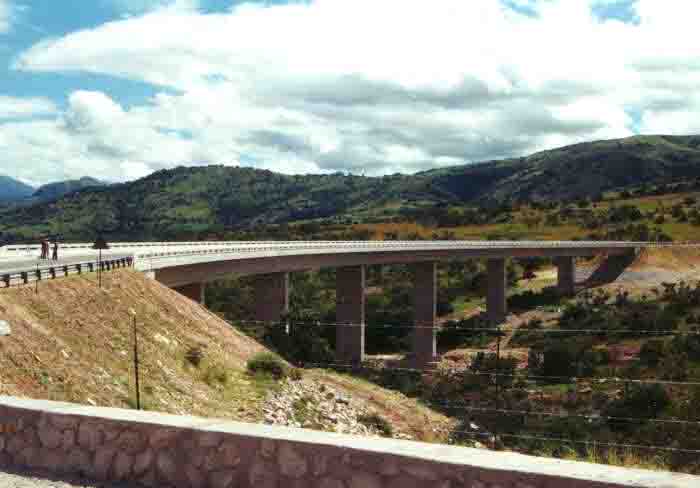 | | |
| --- | --- |
| Project name: | Komati River Bridge on Main Road 1 (MR1) |
| Client name: | Komati Basin Water Authority (KOBWA) |
| Location: | Between Mbabane and Piggs Peak |
Project description

The Maguga bridge crosses the Komati River and replaced the existing bridge situated on Road MR-1 in the north-eastern part of Swaziland. This road forms the only link between Mbabane to the south and Piggs Peak to the north. The need for this new high level bridge was caused by the construction and impoundment of the Maguga Dam on the Komati River.
The hollow box type reinforced concrete piers are founded on spread footings that are dowelled into granite. The dowels have a dual purpose. Firstly they were designed to provide stability against seismic effects which were expected to be experienced during the impoundment of water in the Maguga Dam reservoir.
Secondly, they provided stability during construction against the effects of interim flooding. The six piers vary in height from 11m to 35m. The reinforced concrete abutments consist of a closed abutment on the south side and a spill through abutment on the north side.
The bridge deck has a total length of 305m and consists of a seven span continuous 3,2m deep prestressed concrete hollow box girder that was designed for and constructed using the incremental launching method. The deck has a constant horizontal radius of 375m, a longitudinal grade of 1,75% and transverse crossfall of 6,5%. The overall deck width is 11,35m which accommodates two traffic lanes as well as two raised sidewalks. The bridge spans 38m from abutment to pier and 46m from pier to pier.
ZMCK responsibilities

• Costing of structures at bridge sites on alternative route alignments, for economic feasibility studies
• Site survey and geotechnical investigation
• Detailed design and tender documentation
• Tender adjudication and contract award
• Contract administration
• Construction Supervision